Show/Hide Search Options
About Branched Oak Farm LLC:
At Branched Oak Farm we care about the food we produce. After Doug married Krista and they moved to his farm in northwestern Lancaster County. We started raising hens for our own egg use. When we butchered our first steer, a neighbor asked to buy a quarter of our grass-fed beef. Listening to the requests of our family, friends and neighbors, led us to grow grass-finished beef, pastured poultry and eggs. Soon these friends and customers started asking for fresh milk, thus the dairy was started. Since 2006 we have been producing cheese on the farm from our own herd of certified organic Jersey cows. We are proud of the cheeses we make - our quark won a second place in its class at the American Cheese Society's competition in 2008 and our camembert won a silver medal at the 2009 American Jersey Society's cheese competition.
General Practices:
Certified organic by OneCert, grass-based, sustainable. Cheese is made in small batches by hand.
Highlights:
This month's highlight is Krista's Little Camembert. A wonderful cheese for impressing your dinner guests, serving pie-shaped wedges of these bloomy-rinded rounds on hearty sourdough or baguette is like indulging in a slice of happiness.
Product Types:
Artisan, farmstead cheeses, made from certified organic Jersey cow milk. Cheese varieties: quark, gouda, mozzarella, jarlsburger.
More detailed information about this producer
Ordering is currently closed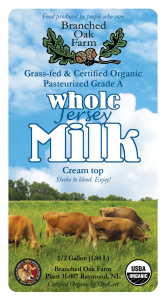 $4.55 per 1/2 gallon
Certified Organic
refrigerated
Certified Organic Cream-top milk from our herd of beautiful Jersey cows. "Certified Organic" guarantees: cows are pastured except when weather prohibits it, they eat only certified organic forages and mineral, our commitment to producing the most delicious, safest food you can buy.
Cream-top means the milk is non-homogenized so there will be a cream layer at the top. This can be poured off for butter making, coffee drinks, cooking, or shaken back in.
Order number of 1/2 Gallon jugs.