Show/Hide Search Options
Condiments, Sauces, Spices
Appetizers/ Dips
7970

3
spicy beer mustard (2-pack)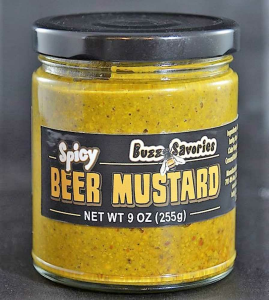 $18.20 / package
Production not specified
non-refrigerated
I am a beekeeper, and the bees in my apiary make more honey than I can use. Thinking of developing a value-added product incorporating honey, and preferring savory to sweet, my friend and food stylist, Lisa and I experimented with condiments and especially mustards.
We founded a distinctive mustard that features honey and a locally brewed craft beer, Olde Creamery Stout. The blend of honey, mustard seeds and Olde Creamery Stout captured a rich and indulgent essence reminiscent of Old World mustards with a 21 Century twist.
Spicy Beer Mustard fulfills our quest to cook simply with authentic ingredients that pack spice and an earthy flavor. Spicy Beer Mustard promises luxury for lunch, for salads, sauces, dips and spreads, and a new condiment to lift the flavor of brats, Polish, hotdog, hamburger, grilled cheese, grilled pork chop, salmon fillets, summer sausage and more of our favorites.
Spicy Beer Mustard, a condiment with character is made for everyone who loves food, tries new foods, and studies ingredient labels. The label reads like a menu – all food!
Order number of package of twos.