Show/Hide Search Options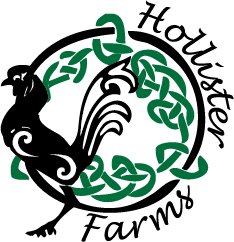 About Hollister Farms:
Hollister Farms is a Certified Naturally Grown (cngfarming.org) Produce Farm, in addition to our produce we raise pastured and soy-free fed pork and lambs, ducks, geese, chickens, eggs, rabbits, and more. We are a small family run farm located near Princeton, Nebraska, about 15 miles south of Lincoln. We do everything with our young children, including the farm work. They really enjoy helping out with the garden and livestock. In addition to vegetable produce we have Farm Fresh Eggs (brown/tan, green/blue, and white), Raw Local Honey from Lancaster County, Lambs, Goats, Heritage Hogs, and we make all natural soaps, lotions, lip balms etc... All of our plants are heirloom varieties. We grow Tomatoes, Carrots, Okra, Kohlrabi, Chard, Snap Peas, Hardneck Garlic (Persian Star & Russian Giants), Onions, Mint, Chives, Sage, Lavender (herb), Parsnips, Beets, Kale, Spinach, Radishes, Sweet Corn, Squash varieties, Melon Varieties, Leaf Lettuces, Green Beans, Turnips, and much more.
We started producing food and body care products for our personal use because of our valid concerns of what was actually in the food and soaps we were buying that was commercially grown or made. My oldest daughter would occasionally have severe reactions on her skin from certain lotions that were supposed to be safe for babies (she was 8 at the time of the worst reaction). We knew that the best way to know that what we were using was all natural and safe was to grow and produce it ourselves. Our large garden continues to grow every year.
Our Hens are treated very well and have a large coop and lots of grassy outdoor access. They are not only fed a healthy diet of layer ration made from soy-free locally grown grains and in addition, they also get a large box of naturally grown and organic Produce every day which we obtain from a couple of local grocery store regularly. The kids love giving them attention and gathering the different colored eggs daily.
Please feel free to "Like" us on Facebook both under Hollister Farms. That way you can stay up to date with the farm and sometimes find out what new item may be coming to the co-op.
General Practices:
We use only heirloom seeds, and follow strict Certified Naturally Grown Standards, cngfarming.org .
We use drip tape irrigation to maximize the efficiency of our water usage.
Our personal care products are made only with natural Olive oil, Coconut oil, Shea Butter, cocoa butter, Caster Oil, waxes, and essential oils. And our Bath Salts are also All Natural.
Our Laying Hens and meats are all allowed outside access most of which are pastured or free-range, all are provided with clean chlorine free well water, and are provided a dry shelter area. They are fed a soy-free feed ration consisting of locally grown grains.

Highlights:
Lots of Wonderful Heritage Soy-Free Pastured Pork for your family's needs.






Ingredients:
Our Produce is as pure as you can expect. No pesticides or herbicides are ever used anywhere on our property.

Our Livestock is fed locally grown grains and is soy-free. We only treat with antibiotics when symptoms persist.
Please look at the ingredients listed on each meat item, as we would love to be all natural with these, the USDA processors have certain regulations that they must follow and so there are some ingredients on some items that you may prefer to avoid, and we understand that.

In our personal care products, everything is all natural. Depending on the product we use Olive Oil, Coconut Oil, Shea Butter, Cocoa Butter, Bees Wax, and Essential oils.
Product Types:
Certified All Natural Produce, Tomatoes, Garlic, Herbs. Goat, Pork, Lamb. All Natural Soap, Lotion Bars, Lip Balms, Bath Salts. Raw Honey
More detailed information about this producer
No products to show