Show/Hide Search Options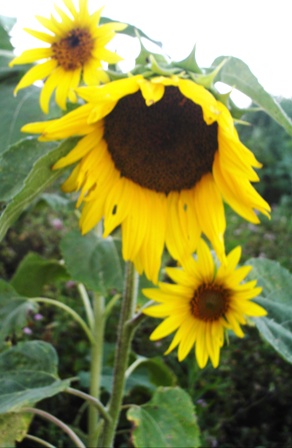 About Sunflower Acres:

I have finally found one name for everything that I make, and grow. Since the Sunflowers were here when we bought the land, it is only right to call it Sunflower Acres.

I am determined to make everything we use on a daily basis out of natural ingredients, and share it with co-op members. We have so many toxic chemicals forced on us every day, at least I can eliminate the toxins in the products I use and sell.

In my mission to lead a less toxic, self sufficient lifestyle, I started making natural soap. Handcrafted Enchanted Rain Soap and *Shampoo Bars, and Salt Bars are our latest addition. I'm very excited to offer Cold and Hot process lye soap made the old way, with pure rain water from our rain barrels, made on the tailgate of my truck when weather permits. Also natural Shampoo Bars with shea butter and hair-nourishing luxury oils made with the hot process. In my quest to make natural conditioner, I designed a great recipe for shampoo bars. Now my hair is cleaner, grew longer and rarely needs conditioner, problem solved!

*We accept Special Custom Orders on hot process Dark Side Beer, Chamomile Shampoo Bars, Lemon Grass Shampoo Bars, Pina Colada Shampoo Bars, or Salt Bars with a minimum purchase of 8 bars. They will be ready by the next order cycle. Contact me if you are interested.

Other natural products I make include: Calendula and Comfrey Oil, Natural Deodorant, Whipped Calendula Shea Butter, Natural Autumn Spice All Purpose Cleaner, Powdered Laundry Detergent. I also offer Healthy Pooch DIY Dog Treat Mix, Herb and Flower Seeds, Trees, DIY Seed Packet Kits, DIY Mini Survival Stove eBooks, actual Mini Survival Stoves, Soda Can Lanterns, and branch bird feeders.

I started making dog treats for my old German Shorthair, Earl (The Duke of Earl was his real name), to be sure he gets nutrition in his diet. Old Earl has left us now. Our Pom, Little Bear just couldn't get enough of them, and he was a very, very picky eater!

We now have Dog Treat Mix, so you can make them yourself if you want to save money and have a fun family baking day. You can add any flavor you have on hand: Chicken, Beef, Veggies, Fish, (try not to use Tuna, studies have found unsafe levels of Mercury in to many of the cans tested), Salmon, or Mackerel. The mix will make 1 1/2 pounds or more. Cut them in fun shapes or just use a pizza cutter to cut squares.

According to the ASPCA website, dogs need 3 food groups in their diet: Meat, Grains, & Vegetables. To find out more information on care and feeding you can go to aspca.org. You will see which foods are good and bad for our 4 legged friends. They say treats should only consist of 10% of your pets diet.

I now have some fun recycled products:

I am always trying to think of new ways to recycle.
Mini Survival stoves made from recycled Soda cans and DIY eBooks to make you own Mini Stove with wire stand for preppers, power outages, emergencies, camping, hiking, etc.
Soda Can Light, or mini eBook to make as many as you want. Great for power outages, camping, or relaxing on the deck.
DIY Seed Packet Kits you can make from seed catalogs, gift wrap, or greeting cards
Denim planters from recycled jeans
Leg Warmers and Infinity Scarves made from recycled sweaters, seasonal

General Practices:
Seeds, Live Plants, and Trees:
No chemicals are ever used on any of the plants. Sometimes we add Fish emulsion or Kelp and crushed eggshells to the plants to recycle, and give the plants nutrition. They are also fed home made fertilizer with dry Banana peels and dried farm fresh egg shells.

Laundry Detergent and Autumn Spice All Purpose Cleaner: In order to help the environment, the containers are different size recycled laundry jugs. Our natural laundry detergent is safe for septic systems, front loading and HE washing machines, and the environment.

Homemade Soap/Shampoo Bars: Made with natural ingredients, and we recycle just about everything here, including rainwater to make our soap! However, due to popular demand and to offer fragrances that Nature does not provide, I am adding a few soaps and shampoo bars with fragrance oils in our 'Mostly Natural' line.

Everything I make is first tested on us, never on animals, for quality before offering for sale. If you are not happy with anything, please let us know. And if you are, let us know too!
Highlights:
* Look for Special Sale items here and there.

New Products: Verbena Detergent, Ivory Detergent, Natural Hand Sanitizer Thieves Inspired Essential Oil*4 oz. purse size spray now with Colloidal Silver water, Chia Dark Chocolate and Fruity Energy Bar Recipes plus Bonus Recipe Raw Chocolate, and more.

Outdoor: Mini Survival Stove/Stand/Recipes DIY eBook Make your own Mini Survival Stove and Stand, Soda Can Light/Lantern eBook for power outages

Popular Items: Orange Shandy & Dark Side Beer Shampoo Bars, Fragrance Free Vegan Shampoo Bars (New round shape)
Morning Glory seeds you can plant indoors to brighten your home. The Morning Glories bloom all winter indoors.

Wholesale seeds available.

Ingredients:
Health & Beauty: Soap and Shampoo Bars made with food grade lye and pure rain water from rain barrels that I made, plus some of the following: Olive oil, Shea Butter, Cocoa Butter, Coconut oil, Sunflower oil, Vegetable oil, Lard, food grade lye, Beer, herbs for coloring, and pure essential oils. 'Mostly Natural' soaps and shampoo bars contain a very small amount of fragrance oils that nature does not provide, such as Honey Almond, Bayberry, Pina Colada, etc.

Sunflower Acres skin care products are all Sulfate Free, Phthalate free, DEA free, Paraben free, Formaldehyde free, PEG Free, non GMO, and contain no artificial coloring.

Homemade Laundry Detergent: Grated natural vegetable base soap, Borax, Baking Soda, now with Washing Soda
Ingredients in Borax: Borax is the common name for sodium tetraborate: a naturally occurring substance produced by the repeated evaporation of seasonal lakes.

20 Mule Team® Borax is 100% natural, and 99.5% pure (there is about a half of 1% of naturally occurring trace minerals). Once removed from the ground it is washed, dried, and boxed.

All of the products list ingredients in the descriptions. Too many to list here!

Product Types:
SPECIALS!Shampoo Bars,Soap,Seeds,Magnesium Oil,Mini Stove,Calendula Oil,Deodorant,Natural Cleaner
More detailed information about this producer
Health and Beauty
Misc. Health/Beauty
5581

5
Natural Hand Sanitizer Thieves Oil*Smells Great*4oz. Fine Spray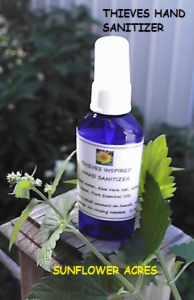 $6.70 / bottle
All Natural
non-refrigerated
When you are out and about, sometimes good old soap and water are not available, so you turn to hand sanitizer. I have been wanting to make my own natural hand sanitizer for a long time after reading how toxic the ingredients are, and that they are not effective in killing all germs. When the small bottle of sanitizer in our van ran out, it was time to stop putting it off. Finally, after some research its ready.
The essential oils in Thieves oil are known for their disinfecting and antibacterial properties. The legend tells about 4 spice merchants that lost their trading business due to the Black plague. Knowing the beneficial properties of each spice, they rubbed them on their bodies and were able to rob others of valuables and avoid the plague. The King captured them and forced them to tell him how they were protected from the plague. This is how Thieves oil started, so they say.
Ingredients: Filtered well water, Thieves Inspired Essential oil, pure Aloe Vera gel and low alcohol Witch Hazel. The reason for the lower alcohol content is that I have read stories of young kids being admitted to the hospital for intoxication from hand sanitizer, and some teens actually drink it, wow!
Sold in a 4 oz. Cobalt Blue fine mist spray bottle.
To use: Spray on hands 1-2 times and rub hands together. It doesn't take much, so this should last a while (I hope).
Testimonial: "We all love your hand sanitizer, it smells so clean and makes my hands feel soft. I like the fact that it is all natural. I would like to order 3 more for my daughters and granddaughter." Evelyn C. NE