Show/Hide Search Options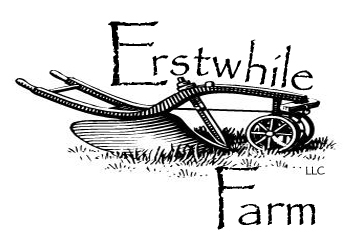 About Erstwhile Farm:
Erstwhile (adjective)
Formally, of times past. Belonging to some prior time

Our farm name reflects our commitment to a more old fashioned approach to agriculture. With the advent of BT Corn, Round-Up Ready Soybeans, GPS auto steer and intensive high tech... everything...it was time for a change. Through this change we recognize the management skills we use that may have otherwise been lost. Whether it's organic crops or livestock raised outdoors without antibiotics the system is intensively simple, but rewarding. We feel the production difficulties we encounter at times are well worth the quality of the end products. The patience and diligence is a huge part of the give and take of farming alongside nature.

Erstwhile Farm certainly suffers from "progressive regression". LOL
Give us a try.

General Practices:
Our GRAIN CROPS are certified organic.

Although our FRUITS AND VEGETABLES are not certified, we follow organic practices. (As of 2017 we have an exception in that our sweet corn and green beans are certified organic and our asparagus is transition organic).

Our LIVESTOCK is best described as antibiotic free, organically raised. We were the first Nebraska farm to gain Animal Welfare Certification with our pigs, and the USDA inspected butcher we partner with is also Animal Welfare Certified. All livestock lives their entire lives outdoors, with shelter and bedding available at will.We follow the highest of welfare standards with the babes remaining with mothers until they are at least 6 weeks old, but usually weaned at about 7-8 weeks. Mommas are then removed from the pen, leaving the babes in the same environment for less stress.We do not clip teeth or cut tails,has been the norm in the conventional pig world. We spend MUCH extra time with rotating the pigs and chickens to access the best greens/grazing/gleaning areas on the farm for a particular season. this includes keeping seeds sowed on all areas for sustainability, conservation and just a fresh lunch for the pigs! This is a very important aspect of our standards, as we do not feel it is in the best interest of the animal to just be in a dirt lot and not rotated to "clean" ground continuously. The rotation is beneficial to alleviate parasite, disease and worm issues as well. Since our farm ground is certified organic, the animals never graze on any land that was sprayed with any chemicals. The grains our livestock gets fed is 100% certified organic.

We have a barn on the farm that was converted to our packing and processing kitchen. This KITCHEN IS INSPECTED with the State of Nebraska.
Highlights:
PIGS - We are caring for all ages, from babes to butcher pigs.Four new litters born over the past week. Halves and Wholes are generally always available, with the next reservation availability for the May 1 and May 15 butcher dates. This whole/half purchase option gives customers the best value by far.

CHICKENS/EGGS - Our laying hens were hatched just down the road by our neighbor. They are a mixed flock with brown and blue layers. We got a straight run (both males & females), so when the cockerels (young males) were filled out at about 18 weeks, we butcher them for our chicken meat. We will offer these out, as well as stewing hens from time to time. (Contact Erstwhile Farm if you would like to be added to this list).

PORK - Newest items: canadian bacon, pepper clove 2 oz. sausage patties, prepared horseradish

POPCORN - certified organic

HOT DILL GREEN BEANS - A hot pickled green bean that is great with a meal or as a snack or party addition.

COMING SOON - Fresh asparagus and farm milled popcorn kernels for a gluten free flour/cornmeal option.

Ingredients:
All our animal feed is certified organic and includes flax for added Omega-3 health benefits. All is ground/mixed ourselves on the farm. Mineral supplements are sourced from Fertrell and approved for organic. Animals also graze in all seasons, rotating on certified organic acres which include: pasture, cover crops (rye, oats, sorghum sudan, various legumes, woodland), gleaning organic crop acres, or just plain weedy areas.

We mix our own blend of spices for each and every small batch of Erstwhile Farm Signature Sausages. Each recipe has been sent in for approval to the USDA. We source most, if not all, organic sausage ingredients. Natural sheep casings are used for the link sausages.

Any foods we sell are also the foods we eat. We have been a farm dedicated to the practices of non-chemical and certified organic/organically raised for 15+ years. Without growing it yourself, trusting in your farmer and asking questions is the best way to add your signature to the ingredient panel of your food.

Note: Certified Organic always means Non-GMO.

Product Types:
Organically raised pasture pork, eggs & chicken. Certified organic popcorn, sweet corn, green beans, asparagus. Fresh & preserved veggies & fruit
More detailed information about this producer
Meats & Poultry
Pork-Halves
7105

5
Half or Whole pig reservation
$100.00 / Reservation
All Natural
frozen
Add a variety of quality, great tasting pork products to your freezer for home cooked meals at a great price!
(ALMOST)YEAR ROUND AVAILABILITY TAKING RESERVATIONS NOW FOR APRIL BUTCHERING- Our pigs are raised in the outdoors on dirt and/or pasture with no antibiotics. They graze on greens as season allows. We implemented a rotational grazing system for optimum health of both animal and environment. Supplemental feed is certified organic grains ground here on our farm. We use a natural wormer. With over 17 years experience in outdoor hog production, we enjoy raising pigs that get to act like pigs. The fresh air and exercise results in healthy, great tasting pork - born and raised on our farm - every time.
HARDY BREEDS - We have a composite breed of pigs consisting mostly of Chester White, Spot Poland China with a sprinkle of Duroc, Hampshire and Yorkshire. We have saved our own gilts (first time mommas) and birthed our own pigs for 17 years out in pastures. So the pigs we have on the farm are a durable composite that do well in this outdoor system. They have good mothering ability, hearty in the outdoors...and from the feedback we get from customers...amazing flavor! : )
PRICING - Please refer to our "PASTURED PORK (WHOLE) or (HALF) ORDER COMPLETION" product for pricing for the pig. The cost is based upon the hanging weight($3.60/lb. for a whole & $4.10/lb. for a half), which is about 85 pounds for half pigs and about 170 pounds for whole pigs. Depending on how the hog is cut up, the dressed weight could be about 20% lower than the hanging weight.Your processing charge, which you will pay directly to the butcher, is generally around $1/lb., depending on your cutting order.
PLACING AN ORDER - Add the whole/half hog reservation (this product) to your shopping cart and identify whether you want a whole or half hog. This will reserve a pig for you on the next time we delivery of pigs to the butcher. I will notify you by e-mail with additional information to help you with your cutting order and take you through the steps of ordering. Once the meat is cut, you will order either the "pastured pork - whole hog completion" product or the "pastured pork - half hog completion" product, which will include credit for your reservation. The meat will be delivered to your pick up site on the subsequent ordering cycle.
If you have not ordered an animal in this manner before, I realize it can seem a bit daunting. No worries, I will help you along. Please don't hesitate to call or email with any questions!
Remember: Orders over a $600 value will receive a 10% coop discount.
Order number of Reservations.