Show/Hide Search Options
Grains, Flours and Pastas
Rolled Whole Grains
5841

9
Organic Rolled Oats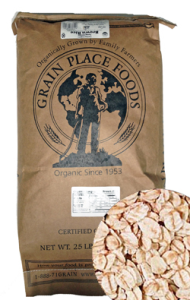 $49.40 per bag (25 lb)
Certified Organic
non-refrigerated
Oats are rich in the cholesterol-lowering soluble fiber beta-glucan. Our organic rolled oats are processed in a way that increases digestibility, while retaining nutrients and improving storage quality.
Blueberry Walnut Granola Bars
Yield: 27 bars
10 oz dried blueberries
8 oz roasted sunflower seeds
8 oz walnuts, chopped and toasted
6 oz wheat germ
2 tsp ground cinnamon
2 cups dark molasses
2 cups light brown sugar
2 tsp pure vanilla extract
2 lbs old-fashioned oatmeal
Non-stick cooking spray
1. Preheat oven to 300°F.
2. Place rolled oats, chopped walnuts, sunflower seeds and wheat germ on a sheet
pan and roast for 15 to 20 minutes until golden brown.
3. Remove from oven and place into a bowl. Add the blueberries and ground
cinnamon. Set aside.
4. Place molasses and brown sugar into a pot and bring to a simmer, stirring to melt
the sugar.
5. Remove from heat and add vanilla extract. While still hot, pour into the bowl with
the oats. Stir until well combined, using a spatula.
6. Coat a 13 x 18-inch pan with cooking spray and pour the granola mixture into the
pan, pressing firmly to smooth out and even the top. (Tip: use a piece of wax paper
or parchment paper between your hands and the granola to prevent sticking.)
7. When cooled, turn the granola onto a cutting board and cut into 27 bars.