Show/Hide Search Options
Grains, Flours and Pastas
Flour
4552

12
Kamut Khorasan Wheat Flour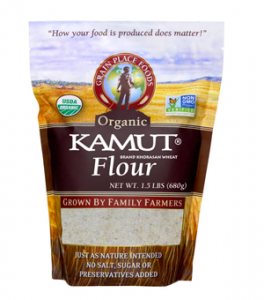 $6.12 per bag (1.5 lb)
Certified Organic
refrigerated
This ancient grain flour has a rich, buttery taste and is easier to digest than common wheat varieties. Kamut Khorasan Flour is famous for making pasta and pizza crusts, but can also be used as a substitute for common wheat flour.
Order number of bag (1.5 lb)s.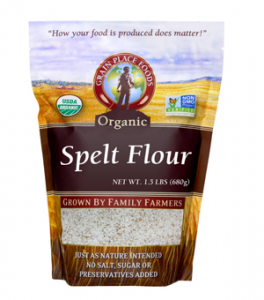 $6.59 per bag 1.5#
Certified Organic
refrigerated
Spelt (1.5# bag) is an ancient and distant cousin of common wheat, with a slightly nuttier, sweeter flavor. Spelt flour is a nutrient-packed whole grain flour (including the germ), with higher protein, fiber and B vitamin content than common wheat, and is more easily digested. It can be substituted for wheat flour in all recipes; however, because it has less and more fragile gluten than common wheat, it should be mixed with wheat flour in baking yeast breads. Grain Place flours are dry milled and have a lower moisture content than other flours, so you may need to use slightly less in recipes. Store in refrigerator.
Order number of bag 1.5#s.