Show/Hide Search Options
About Leise Farm:
Leise Farms is a small acreage near Blair, Ne. We got started producing syrup as an experiment in syrup production. We don't have maple trees on our land so we found what we thought was the next best thing, except we found something better. We produce black walnut syrup every spring from the trees on and around our land. The only ingredient in the syrup is the sap from the trees. In the summer we maintain a few colonies of honey bees for local pollination and honey production.
General Practices:
We try to keep production of all products as natural as possible.
Ingredients:
Black walnut syrup - Sap from black walnut trees Honey - Pure, raw, unpasteurized honey
Product Types:
Honey, Black Walnut Syrup
More detailed information about this producer
Jams, Jellies, & Sweeteners
Other
7814

1
Black Walnut Syrup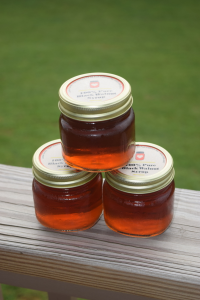 $14.30 / half-pint
All Natural
refrigerated
This syrup is made from 100% black walnut sap from trees tapped on our acreage. We boil down the sap of the walnut trees in a process identical to maple syrup. No artificial flavors or sweeteners are added.