Our NFC Marketing Director is giving away two nights at a Hilton Hotel for the largest total purchases between December 2017 and January 2018!
DETAILS BELOW!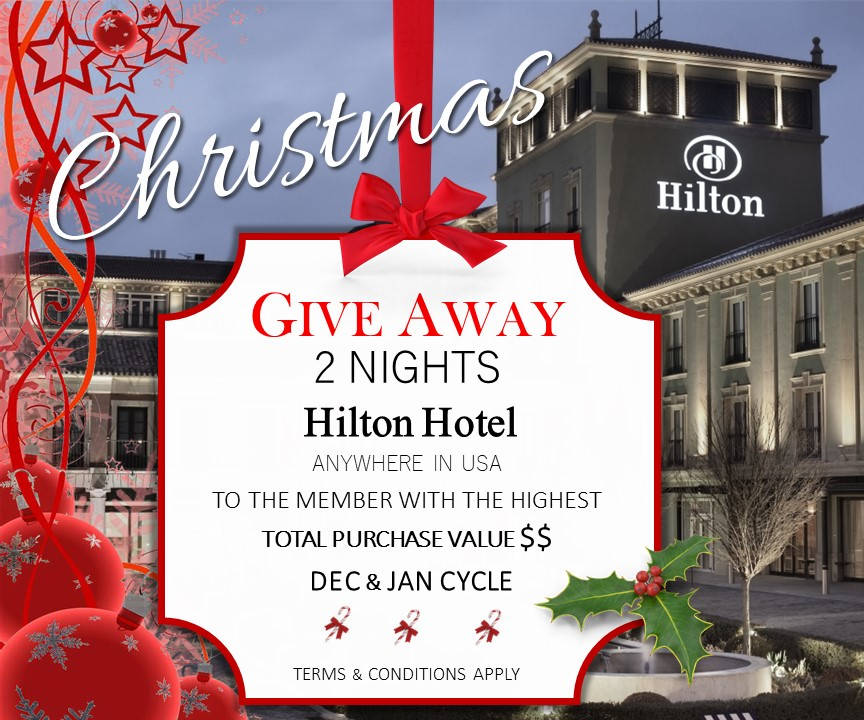 TERMS & CONDITIONS
Only Nebraska Food Cooperative (NFC) customers and producers are eligible to enter.
The giveaway prize is valid from 1 February to December 2018.
The giveaway is sponsored by member Bonny Most & Bonnie Smith of BonSquared Creative who are the marketing coordinators for the co-op.
The winning entrant will be the NFC member who makes the largest total purchase for the December 2017 and January 2018 cycle combined.
The winning member will be notified by post, email and/or telephone. It is up to the winner to ensure that their correct contact details are listed on the NFC website members panel.
Should the winner be unreachable or does not respond to notification of having won, after a period of 30 days the prize will roll over to the next in line eligible winner.
The winner's name may be published by NFC for marketing purposes.
The winner agrees to have a photo taken for use on Social Media and NFC communications without reserve.
The competition consists of 1 (one) major prize in total.
The winner will be eligible to stay at any of the following Hilton Hotels in the USA, excluding Alaska and Hawaii.

Hilton Hotels
Embassy Suites
Doubletree
Hilton Garden Inn
Homewood Suites
Hampton Inn & Suites
Home2Suites

The Waldorf Astoria and Conrad Hotels are not included in this offer.
The winner will be entitled to two (2) nights with a maximum of four (4) guests stay.
The prize is non-transferable and does not include travel costs of any kind.
Free Hilton Honors Wifi access is included, however all other room costs must be paid by the winner.
Six weeks (6) notice must be given to Bonny Most prior to the trip.
Cancellations are valid until 24hrs before the date of booking and a new booking can be made at no additional charge.
This is a sponsored gift from an NFC member not the Hilton Hotel or any of its associates. Booking and rebooking will be done under the Most name and arrangements will be handled by Bonny Most directly not an agency or other. Please be considerate when booking your trip.
Prize is valued in USA dollars. Total prize is valued at up to $350.00
Insurance is covered by the Hotel where relevant and the winner agrees to make their own arrangements for personal liability.
Nebraska Food Cooperative, Bonny Most and the Most family, Bonnie Smith, BonSquared Creative, its employees, associates and/or members are not liable for:

any injury, damages, cost and/or expense, theft and/or loss suffered by the winner for the duration of their stay at the chosen Hotel.
for any delays, cancellations, or deferments made;
any travel related event

This giveaway prize is given as a gesture of goodwill and appreciation on behalf of NFC to its members. It may not be redeemed for purchase discount at NFC or cash value of the prize.
The giveaway is offered without prejudice.