Show/Hide Search Options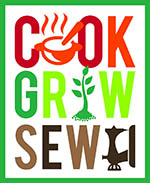 About Cook Grow Sew:
We have been market gardening for 2 years now after graduating from Community Crops Growing Farmers program. Our goal is to raise crops in a sustainable manner with practices that nurture the soil and beneficial insects. We refuse to use pesticides or chemical fertilizers on our land, but do love worm castings.
General Practices:
Our goal is to nurture soil life, which makes for healthy plant life. We use applications of manures in the fall, worm castings at planting and foliar application of worm teas when needed. We plant wildflowers between rows and are incorporating cover crops into our gardens for increased soil life.
Highlights:
Apple Bread
Pepper Powders
Beard Oil
Ingredients:
We source local ingredients where possible for our baked goods, always using organic and the highest quality available.
Product Types:
Seasonal Vegetables (over 40 varieties and majority are heirloom), Herbs, Dried Peppers and Apples, Baked Goods, Pastured Pork (1/2 or whole) Apples,
More detailed information about this producer
No products to show