Show/Hide Search Options
About DS Family Farm:
Pasture Grazed. 100% Grassfed Beef. Animal Welfare Approved and Certified Grassfed by AGW.
Parents worry about what their kids are "really" eating. Have peace of mind with clean meat from pasture grazed animals. http://dsfamilyfarm.com/about/
Doug and Sheila Garrison, Malcolm, NE - 402-796-2208
General Practices:
Beef is Animal Welfare Approved and Grassfed Certified by AGW. Beef herd is moved to fresh pasture nearly every day of the year.
Product Types:
Pasture Grazed Beef (Certified Grassfed) and Pasture Polutry
More detailed information about this producer
Meats & Poultry
Beef - Grassfed and Finished
8059

2
Chicken - Whole Pasture Soy/Corn Free Broiler-Fryer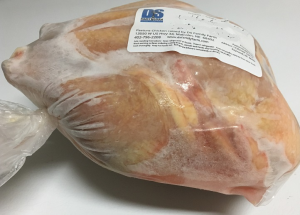 $27.30 / each
All Natural
frozen
These chickens were raised using the Salatin method on pasture. Feed contained no corn and no soybean. Truly a NON-GMO product.
If you or someone you know struggles with food allergies, this is a product to try. Some food allergies are related to corn and soybeans, these chickens have had neither.
Lots of grass, clover, sunshine and fresh air along with supplemental non-gmo grains.
Chickens range from 3.0 to 3.7 lbs.
Order number of chickens.