Show/Hide Search Options
About DS Family Farm:
Pasture Grazed. 100% Grassfed Beef. Animal Welfare Approved and Certified Grassfed by AGW.
Parents worry about what their kids are "really" eating. Have peace of mind with clean meat from pasture grazed animals. http://dsfamilyfarm.com/about/
Doug and Sheila Garrison, Malcolm, NE - 402-796-2208
General Practices:
Beef is Animal Welfare Approved and Grassfed Certified by AGW. Beef herd is moved to fresh pasture nearly every day of the year.
Product Types:
Pasture Grazed Beef (Certified Grassfed) and Pasture Polutry
More detailed information about this producer
Meats & Poultry
Beef - Grassfed and Finished
7874

4
Pasture Grazed Beef Bones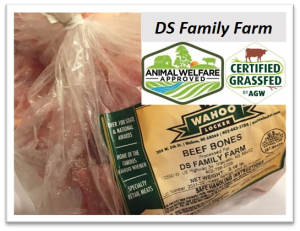 $4.21 / pound
All Natural
frozen
Miscellaneous butcher cut bones in one bag. From 100% grass-fed "pasture grazed" beef, twist tied package. Animal Welfare Approved and Grassfed Certified by AGW. No antibiotics, no grain, no crop residue grazing and never confined to lots (NON-GMO). Our beef herd is pasture grazed year round with frequent moves to fresh forages that provide for healthy animals, healthy prairies and ULTIMATELY YOUR HEALTH. For more details on our production practices visit our blog post http://dsfamilyfarm.com/pasture-grazed-vs-grassfed-beef/
Order number of packages.
You will be billed for exact weight (between 2.50 and 4.50 pounds)