Show/Hide Search Options
About Lewis Produce:
We are a small Farmer's Market produce operation near Orleans, NE. We grow a variety of crops on several acres of land, and in our two high-tunnel greenhouses. Our goal is to raise healthful food for ourselves and your family at a reasonable cost.
General Practices:
We are not all-natural, although we are trying to move in that direction all the time. We don't use any herbicides, and only use "gentle" insecticides if a situation is getting out of hand. We eat what we grow, and will provide you with the same quality that we put on our dinner plates.
Product Types:
Tomatoes, Onions, Potatoes, Green Beans, Radishes, Lettuce, Beets, Cabbage, Sweet Potatoes, Carrots, Sweet Corn, Cucumbers, Swiss Chard, Spinach,
More detailed information about this producer
7648

1
Sweet Potato Beauregard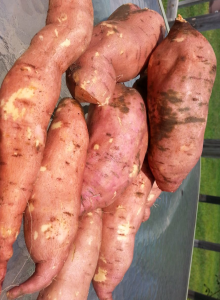 $1.17 / pound
Production not specified
non-refrigerated
Sweet potatoes weigh between .5 and 1.5 lbs each. If you have a preference in size, please contact producer. Potatoes will not be washed before shipping. They have been cured and will keep for several months if individually wrapped in newspaper and stored in a cool, dry place.
Vegetables
Root Vegetables
7683

1
Tender Sweet Carrots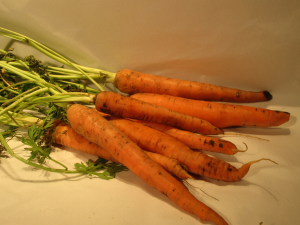 $3.25 / pound
All Natural
non-refrigerated
You will receive a pound of carrots per order. Carrots are 7-10" long. Green tops will be removed before shipping.