Show/Hide Search Options
About Lewis Produce:
We are a small Farmer's Market produce operation near Orleans, NE. We grow a variety of crops on several acres of land, and in our two high-tunnel greenhouses. Our goal is to raise healthful food for ourselves and your family at a reasonable cost.
General Practices:
We are not all-natural, although we are trying to move in that direction all the time. We don't use any herbicides, and only use "gentle" insecticides if a situation is getting out of hand. We eat what we grow, and will provide you with the same quality that we put on our dinner plates.
Product Types:
Tomatoes, Onions, Potatoes, Green Beans, Radishes, Lettuce, Beets, Cabbage, Sweet Potatoes, Carrots, Sweet Corn, Cucumbers, Swiss Chard, Spinach,
More detailed information about this producer
Vegetables
Onion Family (Onions, Garlic, etc.)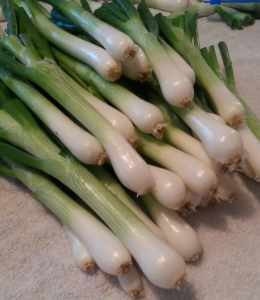 $1.63 / package of eight
Production not specified
refrigerated
One package of 8 green onions
Order number of packages.