Show/Hide Search Options
About Magill Farms LLC:
We are a family and veteran owned business. We are home grown by heroes certified through the Farmer Veteran Coalition. We started raising Angus cattle in 2011 in Ashland Nebraska. Our philosophy is that people should know how and where their food is raised, and we like to treat our customers like family not just a number.
General Practices:
Our cattle are raised on grass until they reach a certain weight (usually 1.5 years old). They are then finished on corn grain and alfalfa. Our cattle are kept comfortable throughout their entire lives. We do not administer hormones and only use antibiotics judiciously when it is in the best interest of the animals health (i.e. sick or bloat preventing). We do not mass treat animals with antibiotics or hormones. If for any reason an animal is treated for sickness it is documented and marketed differently so it is known what has been given in terms of medical treatments. Our eggs are from free range chickens and ducks. Our goats are raised on pasture and finished on grain. We do not use any herbicides or pesticides on our asparagus plants. Our peaches do require some extra help to protect them from bugs though.
Highlights:
We raise beef year round and send a few finished animals in every couple of months. Our asparagus and peaches are seasonal. Our meat goats are available on a limited basis right now. We recently added this option to our product list.
Ingredients:
Beef- Fed corn grain, dry corn distillers grain, alfalfa, and protein supplement with bloat reducer (for animal well being). Free Range Chicken and Duck Eggs Aspargus Peaches Our goats are fed similarly to the cattle but do not receive a bloat guard supplement.
Product Types:
Grain Fed Angus Beef- 1/4's, 1/2's, Wholes, Asparagus, Peaches, Free Range Duck Eggs, Free Range Chicken Eggs, Goats
More detailed information about this producer
Meats & Poultry
Beef-Quarters
7784

1
Grain Finished Angus Beef 1/4 for December Delivery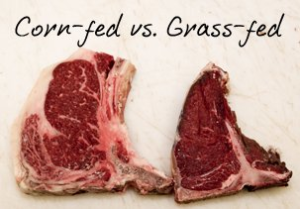 $4.85 / pound
minus
$200.00 / quarter
80% Natural
frozen
Naturally raised grain finished Angus beef 1/4. Our Angus beef is very juicy, tender, and has a rich grain finished flavor. There is a better flavor and texture to grain finished beef compared to grass finished. You can really taste the difference!
Our Angus beef is responsibly raised and hormone free. Your custom or basic cutting order is performed by the USDA inspected Wahoo Locker in Wahoo NE.
A typical quarter of beef will include steaks, burger, roasts, stew and fajita meat, bones for dogs, and liver and other organ meats upon request.
A quarter usually weighs about 200-250 lbs hanging weight and includes basic custom processing.
The price per pound is based on the hanging weight. The total will be calculated once the animal has been received at the locker and includes basic custom processing. For specific processing, arrangements can be made through Magill Farms and Wahoo Locker.
Discounts are available for larger orders and will be applied toward the final balance.
Arrangements for pick up directly from the meat locker can be made since the size of the orders are quite large.
This product requires a $200.00 per quarter reservation (listed as reservation for beef 1/4). This order will be for December delivery.
Order number of quarters.
You will be billed for exact weight (between 200.00 and 250.00 pounds)
7756

1
Reservation for Beef 1/4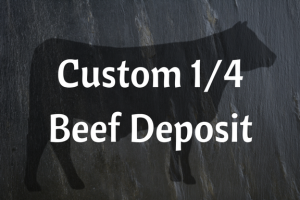 $200.00 / reservation
80% Natural
non-refrigerated
This is the Reservation for 1 beef 1/4. The reservation goes toward the total price of the beef and will be reflected in the final total.
Order number of reservations.