Show/Hide Search Options

About Buzz Savories, LLC:
I am a beekeeper, and the bees in my apiary make more honey than I can use. Thinking of developing a value-added product incorporating honey, and preferring savory to sweet, my friend and food stylist, Lisa and I experimented with condiments and especially mustards.
We founded a distinctive mustard that features honey and a locally brewed craft beer, Olde Creamery Stout. The blend of honey, mustard seeds and Olde Creamery Stout captured a rich and indulgent essence reminiscent of Old World mustards with a 21 Century twist.
Spicy Beer Mustard fulfills our quest to cook simply with authentic ingredients that pack spice and an earthy flavor. Spicy Beer Mustard promises luxury for lunch, for salads, sauces, dips and spreads, and a new condiment to lift the flavor of brats, Polish, hotdog, hamburger, grilled cheese, grilled pork chop, salmon fillets, summer sausage and more of our favorites.
Spicy Beer Mustard, a condiment with character is made for everyone who loves food, tries new foods, and studies ingredient labels. The label reads like a menu – all food!
See recipes on the website - Buzzsavoriesllc.com and find Buzz Savories on Instagram. You will see photos, recipes, and read about the mystery and history of mustard.
or call me at 308-991-2218. I welcome inquiries, concerns, recipe ideas, photos.
My name is Betty A. Sayers. I live in Holdrege, a prairie town under 10,000 in Nebraska, U.S.A., the home of Buzz Savories where we blend, process and pack SPICY BEER MUSTARD.



General Practices:
In starting this business an important aspect to me was using local ingredients and expertise from local companies as much as possible. Spicy Beer Mustard is made with honey produced by the bees in my apiary near Elm Creek, NE, Olde Creamery Stout, a craft beer made at Lost Way Brewery in Holdrege, my spice mixture is blended by a Nebraska spice company and the glass jars are purchased by the pallet from our local Ace Hardware, all labeling designed by Those Blasted Signs, a local sign company, and labeling and production and marketing advice from Jill Gifford, University of Nebraska Food Processing.

I also wanted to know that each ingredient is a recognized food meaning we would have a "clean label."

The mustard condiment is blended and processed in a commercial kitchen.
Highlights:
Buzz Savories produces a delicious Spicy Beer Mustard. This unique blend of spices, honey and craft beer creates a rich, complex flavor profile. So many ways to enjoy from a sandwich spread to salad dressings or a dip for a Charcuterie Tray.
Consumers are searching for locally produced food products with a clean label. Buzz Savories Spicy Beer Mustard possess all these attributes. The mustard is produced in Nebraska utilizing many local ingredients. Consumers will be able to understand and pronounce every ingredient on the label!


Ingredients:
yellow mustard seeds, brown mustard seeds, yellow mustard powder, honey, Olde Creamery Stout, cider vinegar, turmeric, allspice, salt
Product Types:
Condiment - Spicy Beer Mustard - 2 pack
More detailed information about this producer
Jams, Jellies, & Sweeteners
Honey
8473

1
Buzz Savories Artisanal Honey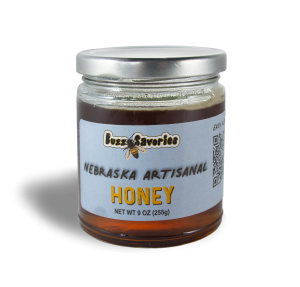 $31.80 per two 9 oz jar
All Natural
non-refrigerated
Buzz Savories honey is made by bees sipping nectar fromwild flowers growing in the Platte River valley near Wlm Creek, NE. This honey is unprocessed and hand-packed so all enzymes and other health properties are available to the consumer.
This item is a two-pack of jars. Each jar is 9 oz. Total of 18 oz.
Order number of two jars.