Show/Hide Search Options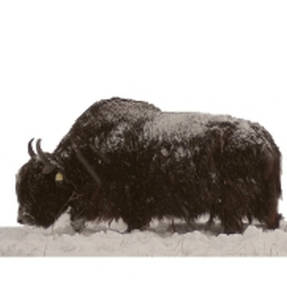 About Hay Springs Yaks:
My husband and I raise Tibetan Yaks in northwest Nebraska. It is a beautiful area set in the Pine Ridge and near the Sand Hills of Nebraska. We live in the town of Chadron (about 100 miles south of Rapid City), which has a population of about 5800, and we are both retired professors. Now we are enjoying full-time ranching raising these beautiful animals. Located in northwest Nebraska, on the Little Bordeaux Creek, the ranch stretches more than a mile up into some of the wildest parts of the Pine Ridge. Hay Springs Yaks is proud to raise grass fed, healthy, contented yaks in this ideal setting. We raise them primarily for the purpose of selling seed stock; we comb them for their luxurious fine fiber; and we have just begun to market yak meat. Yaks are a bovine animal, and all yaks, male and female, have horns. They are not wild nor are they aggressive. Our yaks are, for the most part, sweet and mild-mannered, and we think of many of them as our pets. Our yaks are naturally grass fed. We use no steroids and no growth hormones. We absolutely do not supplement diet with antibiotics. When our animals need hay, we feed certified organic grass/alfalfa hay. We pride ourselves in raising healthy and contented yaks.
General Practices:
Our animals are pasture-raised and pasture-finished (no feed lots) and are grass-fed during the spring, summer and fall. In the winter months, they are fed organic grass-alfalfa hay. We care about the well-being of our yaks and are committed to humane treatment of our animals. Our yak meat is all natural without contaminants: • No growth hormones • No additives • No fed antibiotics • No steroids • Pasture-Raised • Pasture Finished • All Natural • Grass Fed
Ingredients:
100% All Natural Yak Meat
Product Types:
100% All Natural Yak Meat
More detailed information about this producer
Meats & Poultry
Other Meats