Show/Hide Search Options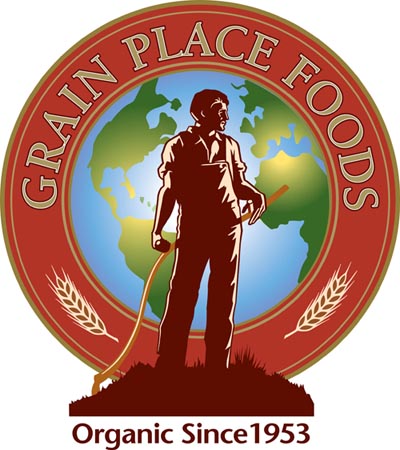 About Grain Place Foods, Inc.:
Grain Place Foods is a cleaning/processing, packaging and manufacturing facility for certified organic whole grains and seeds. We are located near Marquette, on the Vetter family farm (The Grain Place) - Don Vetter started farming organically in 1953 and the farm was certified organic in 1978. In 1975 his son David returned and worked to add grain cleaning and storage facilities to serve small-scale organic farmers and specialty organic food distributors and processors. This was one of the first on-farm operations of its kind in the northern Great Plains. In 1987, Grain Place Foods, Inc. was created to take advantage of value-added manufacturing opportunities, and assumed the grain processing business of The Grain Place. Now a well-established and growing business, Grain Place Foods is operated by a staff of two dozen highly trained individuals, several of whom have been with the company for over 15 years.
General Practices:
All of our products are certified USDA organic, non-GMO Project Verified, and Kosher.

Our grain products are all 100% Whole Grain (they contain at least 16g whole grain per serving) and certified through the Whole Grains Council.

Our rolled grains are made using a unique process of carefully controlled moisture and temperature that gelatinizes the starches, making the grain more digestible while retaining nutrients. This process also denatures enzymes that cause rancidity, extending the shelf life of the grain.

All Grain Place flours are whole grain and stone ground.

We think good storage quality should be the result of good storage practices, not preservatives. All you will find in our products is the product, no preservatives or flavorings added, just the good stuff.

Ingredients:
Our certified organic whole grains and seeds include: barley, corn, chia, flaxseeds, Kamut® Khorasan wheat, millet, oats, popcorn, quinoa, brown rice, rye, soybeans, spelt, triticale and wheat you can buy them as is, or as old fashioned rolled grains. We also grind our organic whole grains into flours and meals: Kamut flour, rye flour, spelt flour, wheat flour, and cornmeal.

No salt, sugar or preservatives are added to our products.
Product Types:
Certified organic and non-GMO: whole grains, seeds, rolled whole grains, whole grain flours
More detailed information about this producer
Grains, Flours and Pastas
Cornmeal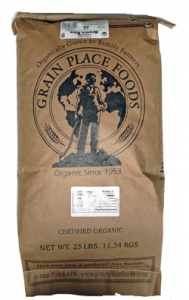 $66.05 per bag (25 lb)
Certified Organic
non-refrigerated
Our cornmeal is milled from organic yellow dent corn. It is delicious in cornbread, muffins, polenta - any of your favorite recipes that include cornmeal. Since it is made from whole grain, it is more both more flavorful and nutritious than de-germed cornmeal. Store in the refrigerator.