WORKSHOP — Would you like to grow produce year round to supply not only your family but expand into new markets, like schools, restaurants, retail stores, farmers' markets, and NFC customers?
Being held in Nebraska for the first time, this Fall, Winter, Spring Produce Workshop teaches a greenhouse method that doesn't necessarily require auxilliary heating!  Presented by Roger and Beth Matson, founders of Never Ending Harvest, this family owned and operated, sustainable farming business is a long-time grower of winter produce in Iowa.
The workshop will be held on Wednesday, April 23 from 1:00-4:00 PM in Hastings, Nebraska. It includes three hours of detailed group instruction, plus the winter greenhouse set of three DVDs. Cost is $85.00.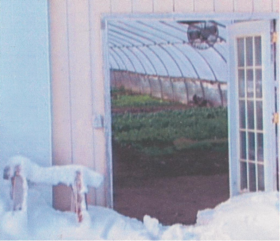 Register no later than Saturday, April 19 — limited seating available — by mailing payment and contact information (name, email, address, and phone) to:
NFC General Manager
45150 State Hwy. 52
Belgrade, NE 68623
For questions, contact Caryl Guisinger, NFC General Manager:
308.357.1000 (home)
gm@nebraskafood.org
This workshop is co-sponsored by the Nebraska Food Cooperative and Buy Fresh / Buy Local Nebraska.