[Editor's Note: Â  Jeremiah Picard and Kate Lottinville with Cook Grow Sew, have satisfied many NFC appetites with their various products over the last two years. We wish them both the best in their worm venture as they recover from their house fire that was a complete loss…except for the worms, thankfully, that were snuggled up in their cozy surroundings (soil).]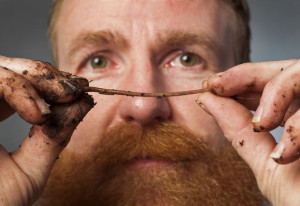 The Nebraska Farmers Union has come up with a new twist — let's call it a wiggle — to recycle school cafeteria food scraps. Jeremiah Picard, with the Lincoln-based organization, wants to turn the discarded waste into a useful compost product with a commercial worm farm.
The process is called vermiculture. The goals are to help reduce the amount of waste that goes to the city landfill, create a natural soil-enhancing product that can be used in community and school gardens, and give students a chance to learn about the benefits of composting.
Picard, who has been raising worms in his basement for years, recently received a $26,850 recycling grant from the Nebraska Department of Environmental Quality and has applied for a $169,046 grant from the Nebraska Environmental Trust. A decision is expected in April.
"We have a site (for the composting operation) potentially scoped. It's just barely outside the city limits, but we haven't gotten the grant, yet," he said. Picard, 39, said he doesn't want to disclose the location because the project is just in its infancy, and he is waiting to hear from the Trust.
His intention is to build a large greenhouse-type structure for the composting operation and worm farm. Food scraps would be transported in small trucks to the site and ground up by machinery. During the process, air would be "forced" through the waste to increase oxygen and microbial activity. "The forced air will be heated and that also will heat the structure," Picard said.
He plans to use red wigglers, which are considered the best worms for vermiculture operations because they live well in close, highly populated conditions and don't burrow.
The vermiculture process creates worm castings, a prized natural fertilizer that helps plants use nutrients already present in the soil. Worm castings are the undigested material, soil and bacteria excreted by a worm after it eats the food scraps.
The Nebraska Farmers Union is partnering with Lincoln Public Schools, Community Crops and the Lincoln Children's Zoo on the project. Food scraps will be obtained from Culler Middle School initially. Other middle schools could be added in the future.
Brittney Albin, interim recycling coordinator at LPS, said the vermiculture project is a great learning opportunity for students and will complement the district's existing recycling program. "Composting gives them more hands-on experience. They can see how their waste is going to be turned into a useful product rather than going into a landfill," Albin said.
Culler Middle School, 5201 Vine St., averages about 11,600 pounds of refuse per month, Albin said, but she doesn't know how much of that waste comes from the cafeteria specifically.
"However, food waste does make up a large portion of the school waste, so we would expect the vermicomposting program to make a big dent in that number," Albin said.
Picard is still working out some of the logistics of the project — like transportation and permits — but he hopes to create a "model" from the Culler experience that can be duplicated in other cities.
The greenhouse will include a 40-foot-long by 5-foot-wide bin, capable of housing about 1 million worms. Picard believes the facility could process between 250 and 375 pounds of food waste per day. He plans to start with about 100,000 worms, which under the right conditions, will reproduce rapidly.
Picard plans to follow the example set by Prairieland Dairy in southern Lancaster County and have students at Culler separate food scraps from paper products. The dairy is using food waste from three public schools in Lincoln, and combining it with cow manure to make compost suitable for farming and gardening.
Initially, the Nebraska Farmers Union plans to give the compost to area farmers, schools and community gardens. Picard said the goal is to have enough of the vermicompost to begin fall field trials. Eventually, the organization would like to sell the product, and possibly red wigglers, too.